Products for the Modern Data Lifecycle
A product suite, fitting hand-in-glove in your data ecosystem
Saturam is a SaaS company for compliance-aware enterprises. Our multi-cloud product suite securely co-exists within several enterprise infrastructure and data ecosystems
Request Early Access
Successful Data Engineering Deployments
Empowering data teams to collaborate & scale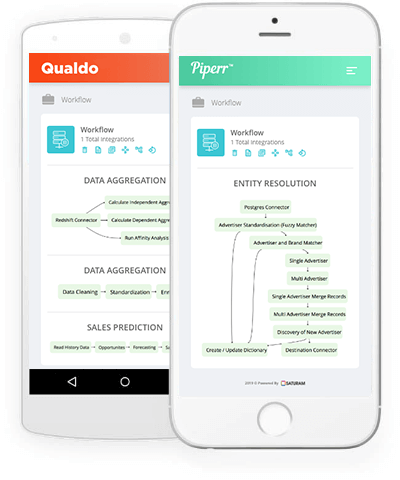 Enable ML-Use cases with
High Quality Data
Improve quality from the ground up. Don't leave data science and analytics teams to work with low-quality one-time file dumps.
Tools for All Facets of Advanced Data Engineering
We are experts in hybrid data engineering in the truest sense, applying security and governance even when blending real-time or streaming, external or enterprise, structured or unstructured data
Data Engineering teams witness immediate results
OPERATIONALIZE PRODUCT
DATA LAKE
Operationalized an unstructured data lake for SKU Intelligence, Near-real-time serving layer, Complex Data-workflows in 18 days
Without Saturam
~30 - days Refresh of SKUs
With Saturam
Multiple – Daily Refresh of SKUs
Data Integration includes CRM & Pricing Systems
Data Access APIs with SLAs
Product Managed Services, Swift and Agile production deployment
INDUSTRY
LEADING AUTOMOTIVE BRANDS
ML-AUGMENTED DATA LAKE
MANAGEMENT
Phase 1: Operationalize Raw Data Hub for a complex multi-silo automotive data from 67 data sources in 17 days.
Phase 2: Aggregation & AI Feature extraction for 360 use-cases
Without Saturam
~12 Months
Data Preparation & Fusion of Dealer, In-store, Vehicle & Customer data
Refresh produces a new version of AI-Ready Data 4 times daily
Product Managed Services configured this for a fast turnaround
MEDIA
WORLD'S LARGEST BRANDS
DATA FABRIC FOR SALES
INTELLIGENCE
Continuous sales intelligence from BARC or Nielsen, and news articles, and channel trends published to Semantic Media Data Fabric in 27 days
Without Saturam
~6 - 12 Months
Continuous Data Refresh with Versioning for Sales Cross and Up-sell
Data Blending and Enrichment for New Advertiser Intelligence
Product Managed Services - Swift Delivery from Requirements to Production
Speed, Quality & Dedication - Quotes from our Clients
A few lines in an email are a wholly inadequate means of expressing my respect, admiration and goodwill towards Saturam. The sheer competence and the extraordinary ability of the Saturam team to pull together in times of adversity, has saved Crayon Data (and me!) many blushes in the past.
Their Market Intelligence team and apps infrastructure are one of the best-in-class available for consumption.
We admire Saturam's passion and expertise on big data and AI. They ensure the quality of delivery. You have proved yourself to be an extremely valuable asset for the organization.
Saturam has a wonderful ML team who can be thrown onto any challenge. Their passion and dedication to getting the job done is simply amazing.